Dr Matthew Secomb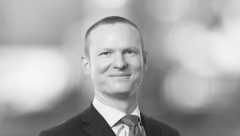 White & Case
8 Marina View #27-01, Asia Square Tower 1
018960 Singapore
Singapore
Australian , Melbourne 1973
Present Position
Partner, White & Case, Singapore; Adjunct Associate Professor, National University of Singapore – Energy Arbitration; Adjunct Lecturer, Queen's University, Ontario - International Commercial Arbitration.

Training / Professional Experience
Education: Dr iur (summa cum laude), Université de Fribourg (2018); Master of Laws - University of Melbourne (2006); Bachelor of Laws (Honours) - Deakin University (1999); Bachelor of Commerce - University of Melbourne (1995). Bar admissions: Avocat au Barreau de Paris (2010); Solicitor, England and Wales (2004); Barrister and Solicitor, Victoria (2000). Prior professional experience: ICC International Court of Arbitration, Paris, France (2001-2005); Minter Ellison Lawyers, Melbourne, Australia (1999-2001).

Areas of specialisation
Specialization in international arbitration, with particular focus on construction and energy related disputes.

Arbitral experience
Chair, sole arbitrator, co-arbitrator and emergency arbitrator in arbitrations under various rules (ICC, HKIAC, SIAC, etc).

Membership in professional associations
ICC Australia (Chair of Arbitration Committee); Fellow, Chartered Institute of Arbitrators; International Law Association (Singapore branch); LCIA; SIAC Users' Council.

Publications
Interest in International Arbitration (2019) OUP; Multi-party, multi-contract rules and the arbitrators' role in finding consent in Liber Amicorum in Honour of Dr Pierre A. Karrer (2017), (Sherlin Tung, Patricia Shaughnessy eds); The ICC Rules of Arbitration in Concise Arbitration (2015, 2nd ed) (Loukas Mistelis, ed.) (with Stephen R. Bond and Marily Paralika) (and 2010, 1st ed); A Uniform, Three-step Approach to Interest Rates in International Arbitration in International Arbitration and International Commercial Law: Synergy, Convergence and Evolution, Liber Amicorum Eric Bergsten (2011) (Stefan Kröll et al, eds).

Language Skills
English and French; conversational German.


http://www.disarb.org/en/15/mitglieder/selbstdarstellung/matthew-secomb-id1076