RAin Niuscha Bassiri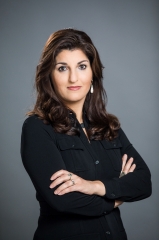 Hanotiau & van den Berg IT Tower, 9th Floor, B.9
480 Avenue Louise
1050 Brüssel
Belgien
German and Iranian, Frechen 1974
Present Position
Partner, Hanotiau & van den Berg, Brussels
Lecturer at ICHEC, Brussels "International Commercial Law and Dispute Resolution"
Member of the faculty of the LLM international arbitration program of the University of Miami School of Law

Training / Professional Experience
2002 Second State Examination; admission to the Cologne Bar; 2002-2003 Associate with Wilmer Cutler Pickering Hale & Dorr, London; 2003-2006 Consultant to arbitrator Robert Knutson, London; 2006 Admission to Brussels Bar; 2006-2011 Associate, Hanotiau & van den Berg, Brussels; 2012-present Partner, Hanotiau & van den Berg, Brussels

Areas of specialisation
English, Italian, Spanish contract law; international commercial arbitration and international investment arbitration; international private law;

Arbitral experience
As arbitrator: 5 x chair, 6 x sole arbitrator 1 x emergency arbitrator; As counsel: More than 15 proceedings: CEPANI, DIS, ICC, LCIA, NAF, NAI and VIAC; Subject-matter and sectors: Investment, distributorship, joint ventures, licensing, patent, post-M&A, sales of goods, shareholdings and sectors (e.g., banking, construction, energy, finance, HoReCa, insurance, luxury, mining, nuclear power plants, oil & gas, pharmaceuticals, satellites, telecommunication, transportation, wind energy. As administrative secretary to the Tribunal: more than 40 proceedings: AAA, CRCICA, ICC, LCIA, SCC, SIAC, UNCITRAL.

Membership in professional associations
Member of the International Board of the Finnish Arbitration Institution; Belgian Chapter, Club Español de Arbitraje; Editorial Board, Journal of International Arbitration; IBA Investment Arbitration Sub-Committee; IBA Rules and Guidelines Sub-Committee; ICC Commission on Arbitration; ICC Task Force on Emergency Arbitrator Proceedings and the ICC Institute of World Business Law; SIAC Users Council; and Inaugural Panel of Arbitrators of the BVI IAC.

Publications
-"Arbitration in Belgium – A Practitioner's Guide", Niuscha Bassiri and Maarten Draye (eds.), Kluwer International Law, 2015.

See full list of publications and speaking engagements:

http://www.hvdb.com/




Language Skills
English, German, Farsi: fluent; Spanish and French: conversational.


http://www.disarb.org/en/15/mitglieder/selbstdarstellung/niuscha-bassiri-id24